Zoungy is a user of the free downloadable Sketchup 3D software by Google, who has uploaded highquality models, and is famous for his obsessive collecting. In the Google Boulder office, they nicknamed him 'the librarian'. Also, he created a independent blog calles SketchupIsland on Blogspot, which is read by a great number of Sketchup users.

Zoungy, Sketchup user
Name
Unknown
Gender
Unknown
Age"
Unknown
Model count:
74
Models in google earth
35
Collections:
50+
Favorites
Complex
Badges
10
Other info
None
Collecting
Edit
With over 50 modelcollections, Zoungy receives every day a whole lot of modelsuggestions sent by other uploaders. Because of the strict acceptance criteria for the collections, 13 of them made it into the '3D building collections' bar on the 3DWH homepage. Zoungy's most famous (or infamous) collection is 'My Favorite Thumbnails'. Not only because it is his biggest collection (485 models), but mostly because it is hard to get your model into the collection. On the details page, Zoungy gives a detailed description of what kind of thumbnail images he's looking for. Zoungy writes:
,,The thumbnail should fit this format: a fully photo-textured model (photos, not Sketchup materials) with hidden edges, set against a plain white background without work artifacts (guids, terrain, etc.). Set the model close to the camera. Position it to create an attractive image, using both the positive and the negative space (within and around the model) of the composition wisely. Hide terrain unless it helps create an attractive composition, or is crucial to the model (in which case, use color terrain, not black & white). Edit noise from textures (cars, people etc). Use shadow settings to help create a feeling of solidity. Shadows cast on the ground plane can aid in creation of the composition. I am unlikely to collect models in these situation: too far from camera; static or dull position of model in thumbnail; pale dull appearance (use shadows or work on texturing); obvious use of repeated textures (roof shingles, etc.); good thumbnail with poor or incomplete model; great model with poor thumbnail; edges showing; square block of GE terrain showing; distractions of any sort that draw attention away from the model itself; overly large file size."
Collections
Edit
A list of Zoungy's collections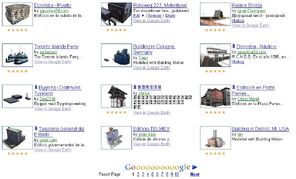 Town halls
American Capitols
Golden Age of Rail
Libraries
Models by Zoungy
Police and Fire Stations
My Favorite Models
Museums
American Icons
Art Deco
Bridges
Collections by Zoungy
Houses and Hotels
My Favorite Thumbnails
1930s
1940s
1950s
1960s
1970s
1980s
1990s
2000s
1920s
1910s
1890s
1880s
Models by Decade
1870s
1860s
1840s and Earlier
Places of Worship
Convention Centers
Ways to Go
Art Galleries
Performance Venues
1850s
Domed Buildings
Lighthouses
Disneyana
Gateways to the world
Around the World in 3D
Ruins
Post Offices
Burbank, California
Barns and Farms
Restaurants
Green-colored Buildings
My Monopoly Buildings
3Dwarehouse Attic
Sketchup Island Pumpkin Patch
My Building Maker Models
St. Mark's Campaline
More Good Models
Modeling
Edit
Zoungy has produced so far 66 high quality models, of which 27 are made with Google's Building Maker. He is known to spend a lot of time on editing his textures and creating a beautiful overall look. Some of his most famous models are the models of Piazza San Marco; all made with Building Maker and he is still working on it. Also the Monopoly city Trainstation, which was inspired by the former Penn station in Manhattan, NY. Furthermore, the 7-Eleven store converted to a Kwik-E-mart gained a lot of succes among the Sketchup comunity.
Supermodelers Conference
Edit
Zoungy was invited by James Therrien to the Supermodelers Conference in Boulder, Colorado. Google offered 20 so called Supermodelers to pay for their airfare to the Google Boulder Office, to have 'three days of fun and Sketchup'. After coming home from the event, he was inspired to start his own blog.
Blogspot
Edit
After the Supermodeler Conference in August 2009, Zoungy started his own Sketchup blog at Blogspot.com. It was meant to be for Sketchup users to discuss certain subjects, and to provide informations and interviews. The blog is called Sketchup Island, and can be found at sketchupisland.blogspot.com. He started a series of RSI's (Really Short Interviews. The name was changed recently to Sketchup Island Adventures). Zoungy has interviewed 7 modelers eversince: MILO Minderbinder, NESUA, Aerilius, Tang 3D, WMU3D, Alex Juhola Ostler, and Eloi Raiol.Zoungy also answers questions of Sketchup users in his series 'Dear Sketchup Island...'.
Pumpkin Patch
Edit
In order to gain publicity and just to have fun with halloween, Zoungy arranged a contest for the best Sketchup pumpkin carver. The deadline for submitting any carved pumpkins was set at
,,The top three winning pumpkins (as judged by our pumpkin expert panel) will appear in the header image of SketchUp Island Blog (www.sketchupisland.blogspot.com) in a festive and spooky Halloween illustration for the week of October 27- November 2, 2009, along with the artists' names and virtual commemorative plaques. Also virtual 3D SketchUp "awards" will be designed and provided by the webmaster of SketchUp Island to the winners. Oh, the glory! LOTS of people will get to see your name and your work. Since its founding in late August 2009, SketchUp Island Blog's pages have been viewed approximately ten thousand (10,000) times by viewers in over 100 different countries. But isn't the real prize the "journey" and not the destination? Think about that. "
An edit was made later, as IGLOO Studios made Zoungy an offer:
,,NEW!  IGLOO STUDIOS IS GIVING AWAY A ONE YEAR PRO MEMBERSHIP TO THEIR SCHOOL WEBSITE FOR THE TOP WINNER AND A ONE MONTH MEMBERSHIP FOR SECOND PRIZE!"
The winners of de contest were:
Aerilius in Germany, with Snarling pumpkin
Cathy Tritschler of France, with Terrible ogre pumpkin
Tobias Merk, with Rübengeist