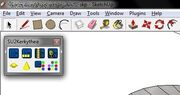 SU2KT is a Plugin for SketchUp.With it's help, you can export your models to Kerkythea and add Kerkythea lights and materials to SketchUp models. It can also be extremely useful when trying to export from sketchupa sit provides a method of producing an xml file that can then be converted to obj. It's a freeware, like Kerkythea. The latest release is 2.1. You could download it here until that link failed, kerkythea's website is currently down.
Features
Materials added: Emitters and FakeEmitters
Animation of lights - now you can control light status during animation
Su2kt components works in SU6 Free even when renamed by program
Lights no longer need to be activated. They will take default values if not set.
Animation settings stored with model (SU2KT will store your previous export settings)
Rendering settings are preserved from main XML file - very useful for adjustments and fast previews
Corrected animation frames numbering.
Bug fixes in the new version
Edit
Images are not flipped now
BMPs are recognized correctly
UV coordinates of textures applied to default material are exported correctly
Colored textures are exported
All hidden objects won't be exported
References
Edit
Kerkythea official website.
Wikipedia article about Kerkythea.