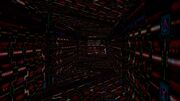 Data Labyrinths are a popular series of maze walkthroughs on the 3D Warehouse, taking the viewer through an electronic maze filled with circuitry, binary numbers, and electrical components. The fad was started by meegs_man32.
List of Models
Edit
DATA LABRYNTHEdit
The original Data Labyrinth. It was created by meegs_man32 and was the start of the fad. The original maze consists of three distinct parts, each part having many different rooms to go through; including a large lava chamber, a laser maze, and even a recreation of the Super Mario Bros. Overworld.
The original Data Labyrinth was so popular among the Sketchup community, that many modifications and remakes were made of the original maze.
Data Labyrinth 2Edit
An unofficial sequel to the original Data Labyrinth made by AdrianG. The maze has less open space, yet more passageways.
This version of the Data Labyrinth is notorious for some sections made with the "Follow Me" Tool. Due to the way collision is handled in Sketchup, it is very easy to clip through the walls of said passages, since the walls are tilted.
Data Labyrinth 3Edit
An incomplete third edition, also by AdrianG, introducing working elevators. the rooms positioning is somewhat of a cross between Data Labyrinths 1 and 2.
data labyrinth IVEdit
A fourth Data Labyrinth created by wyzone. This version introduces moving objects created by offset "face me" axes.
Data Labrynth 5, DATA LABRYNTH 6, and DATA LABRYNTH GRAND FINALE (DATA LABRYNTH 7)Edit
Three separate Data Labyrinth models created by SAM. Compared to the original 4, these versions are of inferior quality, each only having a few rooms.