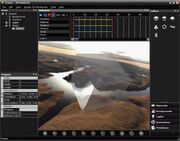 3DPaintBrush is an animating and rendering standalone software that can create photorealistic images, animations or videos from sketchup models. There is a free 15 days trial which requires registration.
Features
Edit
Native support for Sketchup, Rhino, 3DS, AutoCad and more.
Ray-tracing for realistic rendering.
3D Warehouse integration.
Shockwave export to embed models on webpages.